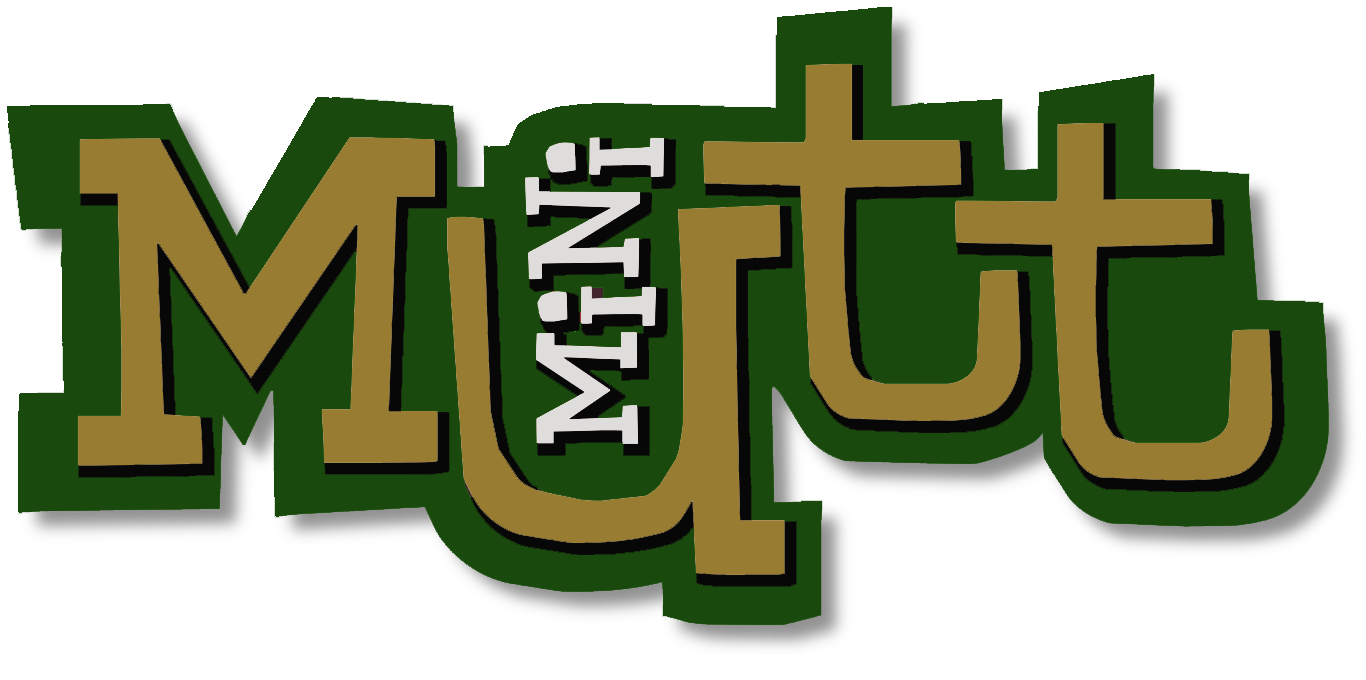 Don't Relay Race... Team Race! MUTT Style!
Mini MUTT - Team Trail Race 2017 Overview
Welcome to MUTT team trail racing! The Mini MUTT team trail race is the shortest of the 2 race MUTT series races scheduled for 2017. MUTT team trail races are NOT relay races but rather team trail races that require 4 team members to start and stay together at the beginning of the race, and one by one turn around at the halfway point of each individual distance. The format allows for different distance runners to race together, and also assures each runner contributes to the success of the team. Pace strategy is critical in assuring the best team time.
The Mini MUTT Race
Each team will consist on a 3.1, 6.2, 10, and 13.1 mile runner. At the start of the race, each team will start out running together and MUST stay together until they reach the 1.55 mile mark, then the 3.1 mile runner will turn around and return to the start/finish line completing the 3.1 mile run, while the remaining three runners continue on. At the 3.1 mile mark, the 6.2 mile runner will turn around and head back to the start/finish line, with the remaining two continuing on. At mile 5, the 10 mile runner will return and so on. Once all 4 runners return to the finish line completing their individual distances, all four times are tabulated for the total team time. Individual awards are given as well.
Date: June 4, 2017
Start Time: 9:00 AM
Location: Addison Oaks County Park
Address: 1480 West Romeo Road, Leonard, MI 48367
Course Description:
The Mini MUTT takes place this year on trails at the Addison Oak County Trail System in Leonard, Michigan. The race will start and end near Lakeview Pavilion with runners competing on a mixture of single track and wide track trails.
Packet Pickup and Registration:
PLEASE NOTE: Addison Oaks County Parks will charge a one time $5 per vehicle fee (less than the standard day use fee for non-residents) that will be good for Saturday and Sunday
Saturday, June 3 2017 from 4:00-6:00 pm at Addison Oaks County Park
Sunday, June 4, 2017 from 6:00-8:45 am at Addison Oaks County Park
Shirts
Event-specific t-shirts are guaranteed ONLY to those who register online before Noon on Monday, May 29th! These shirts will be available in unisex or ladies cut sizes. All participants who register after that date/time will be provided with a TriToFinish t-shirt if event-specific shirts are unavailable on site.
Shirt Sizes Available
Small
Medium
Large
Extra Large
2XL
Ladies Cut Small
Ladies Cut Medium
Ladies Cut Large
Ladies Cut Extra Large
Additional Purchases
Hooded Sweatshirts - $30 Additional Purchase
A limited number of sweatshirts in unknown sizes will be available race day for $40 each. Don't take the chance. Buy yours when registering online! Sizes available:
Unisex Small
Unisex Medium
Unisex Large
Unisex Extra Large
Unisex 2XL
Awards
All teams are automatically entered in the "Best in Show" (top team award) and "Best in Breed" (Top individual time) open division. This means that teams and individual times will not be handicapped for the top spot in the race. Once the top team and individual distance awards are given, all remaining teams and individuals will be handicapped based on the following to determine the 1st, 2nd, and 3rd place in both team and individual categories:
Women plus age handicap - 10%
Age 10 and under - 10%
Age 11 to 15 - 5%
Age 16 to 39 - 0%
Age 40 to 49 (for each year over 39) - 1%
Age 50 to 64 (for each year over 49) - 10% + 1.5% per yr
Refunds
We completely understand that plans change and athletes will sometimes be unable to compete in an event they've signed up for. Unfortunately, refunds will not be provided for any event unless the event is cancelled for reasons within the event Organizer's control.
Should an athlete have an injury or other medical issue keeping them from competing in the Mini MUTT, then we would be happy to transfer your registration to a replacement athlete. This can be done right up to race day!
Volunteers
If you are interested in volunteering for any of the MUTT series races, please sign up using the link below: www.tritofinish.com/events/2016/volunteer
The MUTT Team Trail Race Series
To learn more about the MUTT Team Trail Race Series, or for the answers to frequently asked questions, please use the following link to the official MUTT website: www.muttrace.com
Event Details
Race Start time: 9am
Waterfall start every 2 minutes - 4 teams per time slot
Teams should refer to their team start time when arriving at event. The clock will start at your specified time regardless of whether that team starts on time or not. This will assure the waterfall schedule is met.
9:00am Start Time Slot - Each Team will consist of a 3.1, 6.2, 10, and 13.1 mile runner
Group-registration team Age group/open $160.00 - $200.00
9:02am Start Time Slot - Each Team will consist of a 3.1, 6.2, 10, and 13.1 mile runner
Group-registration team Age group/open $160.00 - $200.00
9:04am Start Time Slot - Each Team will consist of a 3.1, 6.2, 10, and 13.1 mile runner
Group-registration team Age group/open $160.00 - $200.00
9:06am Start Time Slot - Each Team will consist of a 3.1, 6.2, 10, and 13.1 mile runner
Group-registration team Age group/open $160.00 - $200.00
9:08am Start Time Slot - Each Team will consist of a 3.1, 6.2, 10, and 13.1 mile runner
Group-registration team Age group/open $160.00 - $200.00
9:10am Start Time Slot - Each Team will consist of a 3.1, 6.2, 10, and 13.1 mile runner
Group-registration team Age group/open$160.00 - $200.00
9:12am Start Time Slot - Each Team will consist of a 3.1, 6.2, 10, and 13.1 mile runner
Group-registration team Age group/open$160.00 - $200.00
9:14am Start Time Slot - Each Team will consist of a 3.1, 6.2, 10, and 13.1 mile runner
Group-registration team Age group/open$160.00 - $200.00
9:16am Start Time Slot - Each Team will consist of a 3.1, 6.2, 10, and 13.1 mile runner
Group-registration team Age group/open$160.00 - $200.00
9:18am Start Time Slot - Each Team will consist of a 3.1, 6.2, 10, and 13.1 mile runner
Group-registration team Age group/open$160.00 - $200.00
9:20am Start Time Slot - Each Team will consist of a 3.1, 6.2, 10, and 13.1 mile runner
Group-registration team Age group/open$160.00 - $200.00
9:22am Start Time Slot - Each Team will consist of a 3.1, 6.2, 10, and 13.1 mile runner
Group-registration team Age group/open $160.00 - $200.00
About Addison Oaks
Addison Oaks is a 1,140-acre natural oasis close to home where visitors can recreate for the day, camp under the stars or explore the park's rich history. Campers can stay on individual sites or in group camping areas, yurts or cabins. Activities include a 20+ mile trail system for hiking, horseback riding, mountain biking and winter fat tire biking; swimming, boat/kayak and bike rentals, disc golf, fishing, geocaching, picnicking and group picnic shelters. A 2.4-mile connector trail connects the main park to Addison Oaks East and other nearby recreation areas. For more information, visit: https://www.oakgov.com/parks/parksandtrails/Addison-Oaks/Pages/default.aspx